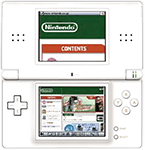 Hehe. Das ist cool. Opera hat offiziell bekanntgegeben, dass es für das Nintendo DS eine Opera-Version geben wird. Kann ich dann endlich super bequem auf dem Sofa surfen? Bequemer als mit dem Notebook? Ich bin gespannt.
In Opera's agreement with Nintendo, Nintendo DS users will now be able to surf the full Internet from their systems using the Opera browser. The Opera browser for Nintendo DS will be sold as a DS card. Users simply insert the card into the Wi- Fi enabled Nintendo DS, connect to a network, and begin browsing on two screens.
Quelle: opera.com (siehe auch Golem)
Update:
Weitere Details findet man bei ds.thenetbox.com.