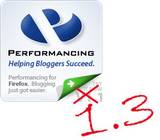 Die Erweiterung Performancing — eine Art im Firefox eingebaute Bloghilfe — wurde jetzt in der Version 1.3 veröffentlicht.
Addons API
Themes API
Localizations – We expect to be announcing PFF in other languages shortly!
Windows Live Spaces support
Firefox 2.0b1 support
Firefox 2.0b1 Spellcheck support via hidden pref
Sidebar collapser for added posting real-estate
Added Window icon for "Pff in window" mode.
Bug fixes and stability fixes
Ich selbst benutze die Erweiterung ja nicht, da ich Blogdesk verwende. Mir ist eine richtige Desktop-Anwendung lieber. Nichtdestotrotz ist Performancing aber eine sehr nützliche Erweiterung und für jeden Blogger mal einen Versuch wert.
Siehe auch hier.